The ECE fencing club proudly presents «PSL Paris Fencing 2018», its new challenge edition organized in Paris. It's an international and student fencing tournament organized in cooperation with Paris Science Lettres University and l'École Normale Supérieure ULM.
This edition will take place on March 10th and 11th 2017 in the middle of Paris, with individual and team competition. It will be open to épée, saber and foil in a mixed formula. Every registered fencer will be offered a meal on Saturday noon and evening, and on Sunday noon. A stand will also be opened during the competition to propose coffee and snacks. On Saturday night will be held a friendly social for all fencers. Competition fees are set to 20€ for both Saturday and Sunday, and 15€ for one day. We can also offer you accomodations for 15€ a night. Cash payment will be made in the entrance.
We hope to offer you a quality fencing tournament, combined with an exceptional location in the center of Paris, which will allow to discover this wonderful city! The main Parisian monuments, such as the Eiffel Tower, Notre Dame, l'Opéra or Le Louvre are all within a twenty minute walk or transportation from the competition.
Have a look at our practical guide for detailed information: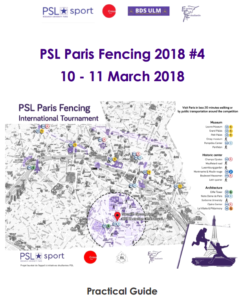 This post is also available in fr_FR.